Post by RONNIE KUNSTLER on Jun 17, 2016 1:33:52 GMT -5
[attr="class","cbbackg"]
[attr="class","iconimage"]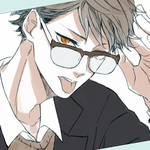 [attr="class","iconh"]
[attr="class","cbhovbg"]
[attr="class","cbcname"]RONNIE KUNSTLER
[attr="class","cbinfo"]male
●
16
●
heterosexual
●
man-whore
[attr="class","cbcatn"]friends.
[attr="class","cbline2"]
[attr="class","cbbodt"]
I guess Ronnie isn't quite the friendly type, but it is MUCH easier to warm up to him if you were a woman. Being the man-whore he typically is, he's much rather likely to cling around with girls. I guess he could have a female best friend that he'd often flirt around with (being himself), but it doesn't necessarily mean you have to succumb to it. I would much rather that you reject it, even.
[attr="class","cbcatn"]lovers.
[attr="class","cbline2"]
[attr="class","cbbodt"]
Oh, lovers. Ronnie hardly knows what this means. He understands affection, tricks to display a liking, and other cons. I'd just LOVE it if he figured out that chasing after a girl was more difficult that he thought it was, enjoying the challenge and eventually warming up to her intimately. I'D LOVE TO SEE SOME SPICE IN HIS LOVELIFE BRING IT ON! I don't mind any admirers or some un-final dating flings. I'd love to see him try out the dating route. Maybe as a test and not actually having feelings for her. WARNING: not for the faint hearted! XD
[attr="class","cbcatn"]haters.
[attr="class","cbline2"]
[attr="class","cbbodt"]
OH A LOT! Usually, you can have boys or girls here. BOYS: they'd most likely hate him for being such a narcissistic and self-centered dweeb. I can also imagine them hating him for being the crush of their crush or something along those lines. I have no idea, really. Help me plot it up. GIRLS: Ohhhh yes. Hell hath no fury like a woman scorned, eh? Give it some pure "He led me on and left me" hatred and some typical ex-fangirl drama or that "If I can't have you, then no one can!". I'd love to hear your suggestions!
[attr="class","cbcatn"]others.
[attr="class","cbline2"]
[attr="class","cbbodt"]
I don't need anything else, really~
[googlefont=Roboto]
[newclass=.cbbackg]width:420px;background-color:#fefefe;padding:20px;border:1px solid #f2f2f2;[/newclass]
[newclass=.cbline2]background-color:#ccc;height:1px;width:380px;[/newclass]
[newclass=.cbcname]padding:12px;font-size:30px;text-align:center;color:#00bcd1;font-family:Roboto;text-transform:lowercase;margin-bottom:-10px;[/newclass]
[newclass=.cbinfo]padding:20px;font-family:verdana;font-size:10px;text-align:center;color:#888;line-height:13px;margin-top:-30px;[/newclass]
[newclass=.cbbodt]width:360px;font-family:arial;font-size:10px;text-align:justify;color:#888;line-height:13px;[/newclass]
[newclass=.cbhovbg]margin-left:10px;margin-top:-130px;height:150px;width:400px;background-color:#fefefe;[/newclass]
[newclass=.cbcatn]width:380px;padding:10px;font-size:45px;text-align:right;color:#76d3de;font-family:Roboto;font-weight:900;letter-spacing:-1px;margin-bottom:-10px;[/newclass]
[newclass=.iconimage]-moz-transition: all 0.92s ease-in-out;-webkit-transition: all 0.92s ease-in-out;-o-transition: all 0.92s ease-in-out;[/newclass]
[newclass=.iconh]-moz-transition: all 0.92s ease-in-out;-webkit-transition: all 0.92s ease-in-out;-o-transition: all 0.92s ease-in-out;opacity: 0;z-index:999;position:absolute;[/newclass]
[newclass=.iconh:hover]-moz-transition: all 0.92s ease-in-out;-webkit-transition: all 0.92s ease-in-out;-o-transition: all 0.92s ease-in-out;opacity:1;z-index:999;position:absolute;[/newclass]
[newclass=.cred]text-align:center;font-size:6pt;color:rgb(132, 132, 132);letter-spacing:1px;font-family:verdana;[/newclass]
[newclass=.cred a]color:rgb(132, 132, 132);[/newclass]